Central Pennsylvania Speeding Ticket Attorneys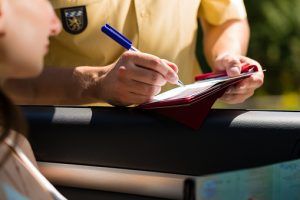 Cody & Pfursich are highly qualified and experienced central Pennsylvania speeding ticket attorneys. For over 30 years, we have been successfully representing clients in all manners of vehicular and traffic violations, DUI cases, and license suspension cases. Our attorneys have reviewed all types of violations through the years, and we've litigated a great many speeding ticket cases like yours. We are conveniently located just steps from the Lancaster County Courthouse.
Speeding tickets are more than just an inconvenience. In addition to the often heavy fines, a driver also receives traffic violation points and becomes a greater risk for a loss of driver's license. Speeding tickets also result in insurance points that can drive your insurance rates up significantly. Losing one's license is a crippling blow to one's personal freedoms. Don't put yourself at greater risk if you can avoid it.
As Central Pennsylvania speeding ticket attorneys, we are well aware of the considerable penalties, and we're also aware of your need for zealous representation in this legal battle. Cody & Pfursich attorneys are well familiar with the vehicle code, and we understand local police departments and district judge's offices and their procedures. This knowledge is a great help to you when you're challenging or negotiating a speeding ticket.
While it may not be financially beneficial to hire an attorney for a single speeding ticket, when you are threatened with loss of license and severe fines, along with greatly increased auto insurance premiums, it may be vital. We can consult with you and help you make an informed decision.
Contact Our Central PA Speeding Ticket Attorneys Today
When you are in need of qualified and locally experienced central Pennsylvania speeding ticket attorneys, give the offices of Cody & Pfursich a call or contact us through this website. We'll do everything we can to achieve the best results for you, whether it's challenging and unjust ticket or negotiating to minimize the penalties.