Lancaster Motorcycle Accident Lawyers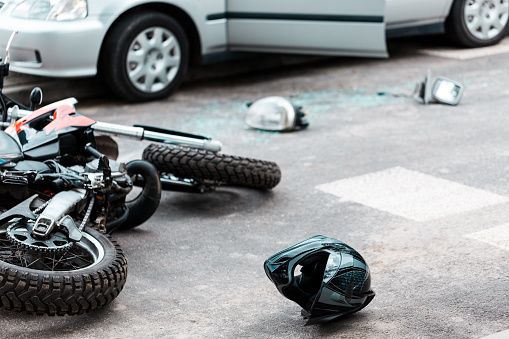 When you need Lancaster motorcycle accident lawyers with the experience and knowledge to win fair compensation for you, contact the law firm of Cody & Pfursich. Our office is right here in Lancaster, and we represent accident and personal injury victims throughout the city and Lancaster County. We have years of experience successfully litigating personal injury cases, and we know how to achieve the compensation you deserve.
Motorcycle accidents can be caused by a number of preventable occurrences…such as nearby drivers texting or driving while impaired, stop and go rear end collisions, or blind spot accidents. A motorcyclist can suffer a blow to the head causing a brain injury, partial or total paralysis from a spinal cord injury, broken bones, facial injuries and more.
The physical, emotional and financial damage from a motorcycle accident can be devastating…and victims of a preventable motorcycle accident should be compensated fairly and justly for their pain. But all too often, insurance companies aren't willing to help victims and their families.
Our managing partner Stephen Cody has a track record of success in personal injury cases, and is a member of the Million Dollar Advocates Forum, a prestigious group of attorneys that have won million and multi-million dollar awards for accident victims. He knows how to fight for your legal rights in motorcycle accident cases. Unlike the large firms on TV that depend on volume, Cody gives individualized attention to your case. That attention has helped us win millions of dollars in compensation for clients.
Have you gotten the medical attention you need? Be sure to do so immediately – have a physician thoroughly examine you and get a medical diagnosis of all of your injuries. You may have a problem that isn't causing you pain now but could cause great stress for you in the future. Get the medical evidence on your side, and reach out to us for your legal services and the compensation for your bills, lost ability to work, and emotional stress.
Request Your Lancaster Motorcycle Accident Attorney Services Today.
If you have suffered injuries or have lost a loved one from a preventable motorcycle accident, and are struggling with medical bills and loss of income without help from an insurance company, contact us today and request a free initial consultation. Our Lancaster motorcycle accident lawyers will help you achieve the compensation you deserve and move forward with your life again.