Our Location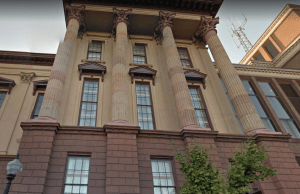 Cody & Pfursich is based in Lancaster, PA, across the street from the Lancaster County Court House. We provide legal services in criminal and civil defense for clients in Lancaster, PA.
We serve clients throughout Lancaster County, including in the following municipalities (ordered by population): Ephrata, Elizabethtown, Columbia, Lititz, Millersville, Willow Street, Mount Joy, Leola, New Holland, Manheim, Manheim Township, Hempfield, East Petersburg, Akron, Denver, Maytown, Reamstown, Rheems, Rothsville, Brownstown, Lampeter, Strasburg, Mountville, Salunga, Marietta, Quarryville, Swartzville and Bowmansville.
If you are in the Reading or Harrisburg area and need legal representation, call us; if we cannot represent you we will refer you to someone who can.
Our address is:
Cody & Pfursich Attorneys at Law
53 North Duke Street – Suite 420
Lancaster, PA 17602
(click here for directions)
Phone: (717) 299-7374
Fax: (717) 291-0998
Attorney Ed Pfursich (pronounced "Fur-sik") Cell: (717) 682-3004
Attorney Doug Cody Cell: (717) 330-1059.
Receptionist Available Monday-Thursday 8:00AM – 5:30PM and Friday Until 5:00PM.
Answering service available 24/7.